Meersens and Aldes partner to provide seamless and innovative solutions to create smart and healthy living spaces.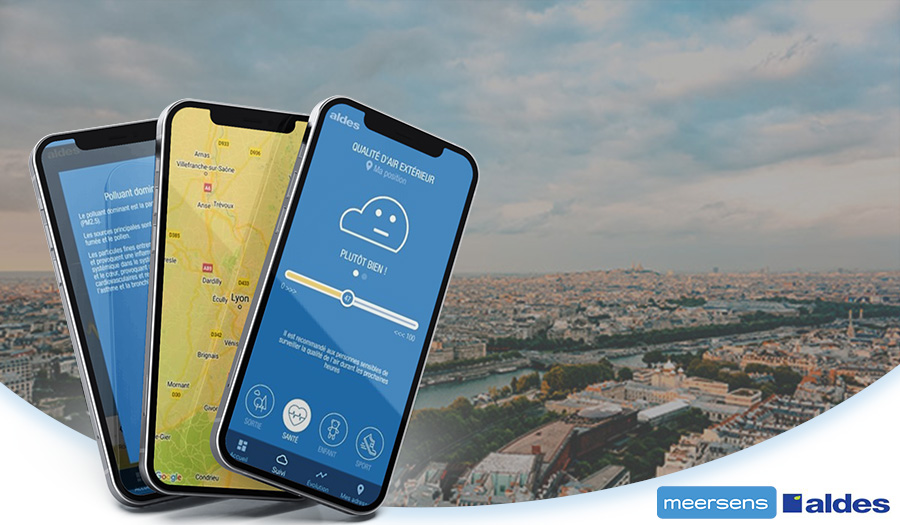 For a complete air quality monitoring solution
Meersens, an expert in environmental data, has joined forces with a specialist in the design and manufacture of ventilation systems for buildings, Aldes. This collaboration offers professionals and the general public a complete air quality monitoring solution.
While indoor air quality depends mainly on the pollution generated inside the building, it is also related to the outdoor pollution that enters. By bringing together all this data, through the integration of an environmental data API into the AldesConnect® application, which is accessible to all, it will be possible to know the quality of indoor air and also the level of environmental pollution around the home, the children's school or the office.
Meersens data combined with Aldes know-how
As part of the collaboration with Aldes, Meersens provides various environmental data for global coverage: outdoor air quality (ODA quality), pollen, weather and noise. Thanks to a geolocation system, it is possible to have access to all this information in real time, but also in the history and in the future (forecasts at 48 hours). This data can thus be used for different purposes :
Have quantitative data on the air quality of a geographical area upstream of a construction site to define the Aldes installations best suited to the environmental situation (CMEV, purifier, filters for incoming air, etc.);
Ultimately give a complete view of a building's air quality in real time by combining Meersens data on outdoor air quality with those of Aldes sensors that assess indoor air quality.
This data, combined with health and prevention recommendations, is directly integrated into the Aldes ecosystem (AldesConnect® app and Walter® Air Quality Sensor). Users can also find advice depending on the level of outdoor pollution, the activity practiced or the category to which the person belongs (child, elderly person …).
A collaboration that makes the invisible visible
Thanks to its environmental modeling system with a resolution of 50 meters by 50 meters, Meersens data is based on major indexes in the world (WHO, ATMO, France, Europe, US, China standards…).
While 90% of the urban population does not breathe healthy air, it is predicted that 70% of the population will live in an urban environment by 2050. Thus, urban pollution (noise, NO2, SO2, fine particles, hot zones, etc.) is an essential factor to be taken into account in the design of buildings and their daily management. Indeed, prolonged exposure to this outdoor pollution, associated with poor indoor air quality, can have health effects such as the development of chronic diseases, asthma in children or sleep problems.
The collaboration between these two Lyon companies with an international reputation makes it possible today to make the invisible visible and thus to propose innovative solutions to develop intelligent and healthier living spaces.
About Meersens : 
Meersens is the specialist in environmental data, labeled #DeepTech and #GreenTech. SaaS / API platform for modeled geo-temporal environmental hazards in more than 190 countries (air quality, water quality, noise, pollen, etc.) thus contributing to health and well-being. Beyond environmental compliance, it gives the means to act and deploy predictive and preventive actions through engaged stakeholders. This solution empowers companies with a strong CSR policy and key players in the field of smart city. Meersens makes the invisible visible in 1 click!
About Aldes : 
12,000 liters, it's the amount of air that we use every day. 12,000 liters of air is also 26,000 breaths. And because air is not just for us to breathe but it also helps us live a healthier life, Aldes Groupe commits to designing indoor living spaces that are smart and caring. Aldes contributes to the comfort, health, and well-being of building occupants (homes, schools, offices…) through innovative solutions. Founded in 1925 in France, the Groupe is today present in 60 countries around the world with 6 main international brands. It is a major player in its activities: Ventilation, Thermal Comfort, Fire Protection, Air Purification, Central Vacuum Cleaning.