Cancer is a disease whose incidence has risen sharply in recent decades. This is due on the one hand to the screenings put in place (breast cancer, prostate cancer…) but not only unfortunately.
Be informed to take better action against cancer
Figures can be frightening, in 2018 cancer claimed 157 400 victims in France. However, it is possible to fight against it. In 2009, the WHO estimated that 30% of cancers in the world could be prevented and this reached 40%of cancers in France by changing certain everyday behaviors!
The fight against cancer can begin at any time at the individual level by adopting the right habits. The aim of this World Day, as well as the awareness campaigns, is to make prevention tools available to all.
One of the reasons that many cases of cancer are preventable is that the disease is linked to exposome, that is to say environmental exposures that impact health at conception and throughout life. Although there are many types of cancers, certain environmental factors are highly correlated with their occurrence.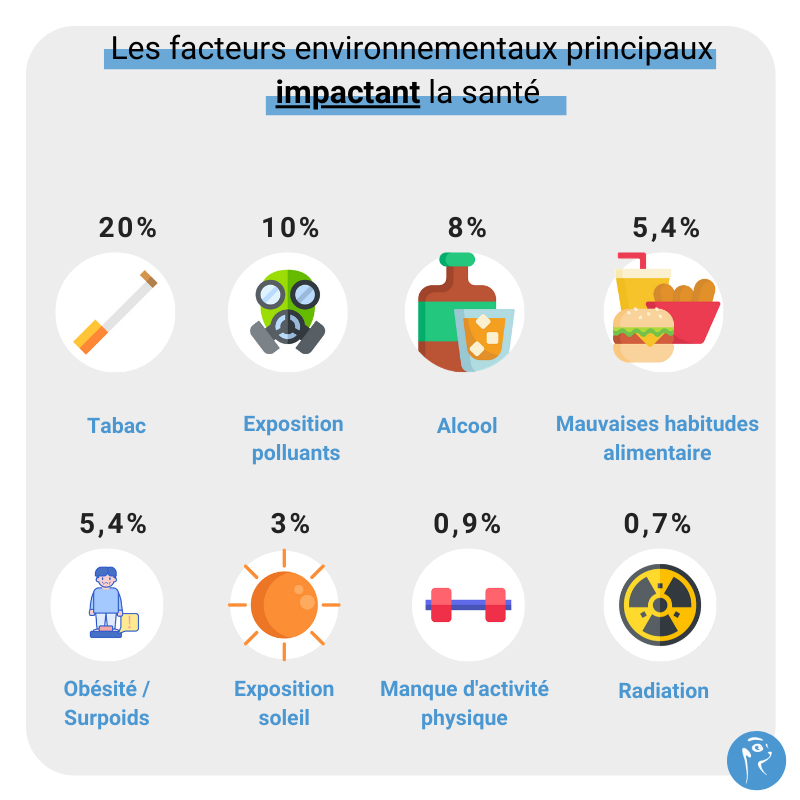 Acting on these factors reduces the risk of developing this disease.
It is sometimes easy to balk at a change in behaviour, especially when faced with the example of a smoker whose non-smoker fellow-smoker develops lung cancer! This case illustrates several facts:
the first is that cancer is multifactorial, there is no single cause that involves its development.

the second is that there are genetic predispositions that make one individual more likely to develop cancer than another.

The last fact specific to this case is that the non-smoking congener is a passive smoker which is also a risk factor for the occurrence of lung cancer!
In a more general case, it is important to remember that it is not because we are genetically predisposed that we should not act; on the contrary, it is by taking control of our health by limiting exposure to risk factors that the occurrence of cancer can be avoided.
Tobacco is responsible for nearly 90% of lung cancers. What is less well known is that it is the direct cause, or a contributing factor, to 17 other types of cancer!
"I'll have a soft drink."
6 cancer sites are concerned with more than 15,000 deaths per yeardue to alcohol. Limiting consumption is essential
"I'll take the stairs instead of the elevator."
Daily physical activity is important to prevent many chronic diseases as well as 4 types of cancers directly. Physical activity helps maintain a healthy weight, which is also a factor in preventing the risk of cancer.
"This lunchtime I'm eating a well-balanced home-cooked meal."
Factors favouring these risks are mainly the excess of red meats(beef, pork, lamb and mutton, and preparations containing them), the excess of delicatessen, fatty, salty or very sweet and ultra-processed foods.
"I thought I'd put some sunscreen on before I went out in the sun."
It is also very important to limit your exposure to the sun, especially between 12 noon and 4 p.m. Sun cream is not always enough.
"I use the Meersens application to inform me about my environment."
Meersens provides you with a weather forecast of your environment as well as personalised advice to avoid being exposed to situations that could put your health at risk.
An application that will help you make the invisible visible.
Be informed in order to act better:
From prevention to screening to treatment, information plays a crucial role in reducing the risk of cancer. The ARC Foundation is a member of the International Union Against Cancer and offers many brochures specifically on how to prevent cancer and how to live better during and after cancer.
You will find more information and good daily habits on the

Meersens

application, the guardian of your health.